— JANNAT INTERNATIONAL INDIA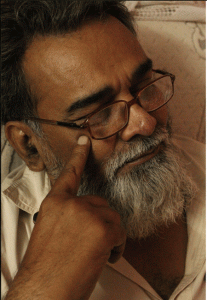 Anis Hanif is a Quranist Muslim and leader who is originally from Kanpur, UP, India. He is a Quran scholar who works as a Statistical Officer for the Government of India. He is based in Luckhnow, India and he is the Missionary for JANNAT INTERNATIONAL.  A graduate from the world renowned Aligarh Muslim University,   Anis Hanif is a successful businessman and a poet who is very active in his social circles. He is a man of letters, a brave father and a committed Muslim who understands clearly that the Islam being presented by the clergy today is poles apart from the great ideology of prosperity which was delivered by Prophet Muhammad, SAAAWS.
KHUSHI MEIN PANI KI TARAH PAISA BAHAO NA !
GHAM HO TO AASOOWON KA DARYA BAHAO NA !
DUNIYA KI CHAH MEIN AAKHIRAT GANWAO NA !!
AAKHIRAT KI FIKR MEIN DUNIYA GANWAO NA !!!